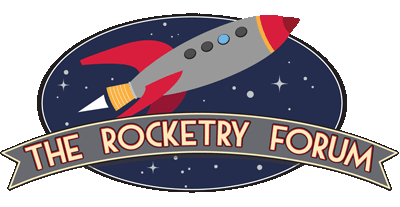 After centuries of secret negotioations deep in the bowels of the Earth, The Rocketry Forum (www.rocketryforum.com/) and Pemberton Technologies are proud to present our most diabolical achievement to date, the TRF Logo Rocket!
*Obligatory Lightening Crash*
BWHAHAHAHAHA!!!!
The TRF Logo Rocket is our first venture into the mad world of card stock modeling. Card stock rockets combine light weight, excellent performance and great taste into a cool Retroriffic package.
The TRF Logo Rocket is 12″ tall, about 2.25″ in diameter, has a cool full color printed double ogive body with nifty rocket nozzle and fin skins, super retro sweepy basswood fins, a 60″ KEVLAR shock cord, 12″ parachute, 1/8″ launch lug, an 18mm motor mount and 30 glorious pages of Destructions to walk you through the creation of this beauty.
She flys on 18mm B4-2, B4-4, B6-4,and C6-3 bkack powder motors.
All this and the honor of owning one of the coolest rockets ever for only $17.50 plus $6.00 shipping. Awsome has never been this inexpensive.
Tech-Specs:
Diameter – 2.25 inches
Length – 12 inches
Motor Mount – 18mm
Coolness Factor – 6.0221413 e+23
Recommended motors: B4-2, B4-4, B6-4 and C6-3
Kits are not available at this time, but please check back with us. We apologize for any inconvenience this may cause.

Destructions and RockSim file available on request: helf(at)pembertontechnologies.com